MyData 2020
December 11, 2020
THE CONFERENCE
MyData Online 2020 held 10 -12 December, will bring together stakeholders representing Business, Legal, Tech and Social perspectives because they are all equally important for designing and accelerating the sustainable, fair and prosperous digital society, where human-centric approach to personal data is a key ingredient.
The conference will help unleash the enormous potential of innovations based on personal data. It will highlight the existing cases and provide opportunities to build cross-sectoral international collaborations and boost future developments in the area of human-centric data sharing.
Book the time from your calendar already now!
---
PIMCITY PARTICIPATION
Friday 11th December. 08.45 – 10.15 (UTC+0)
Session: From Strategy to Practice – Data Intermediaries in the EU
Goal:
To highlight key elements of MyData Operators and aspects of the EU Data Strategy for making intermediary models realistic.
To investigate the alignment of the EU Data Strategy with theoretical models and spur a discourse about the necessary steps for creating legal, technological and market conditions to support the emergence of data intermediaries in practice.
Session host: Zohar Efroni and Nikolaos Laoutaris
Presenters:
Dr. Arianna Rossi, SnT, University of Luxembourg
Prof. Max von Grafenstein, University of the Arts (UdK), Berlin
Marco Mellia, Researcher at Politecnico di Torino (PIMCity Main research)
Yvo Volman, Data Policy and Innovation Director at DG CONNECT EU (TBC)
---
WHAT IS MYDATA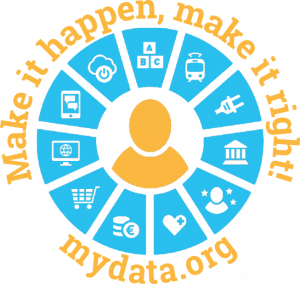 The purpose of MyData Global is to empower individuals by improving their right to self-determination regarding their personal data.
MyData Global has close to 100 organisation members and 400 individual members from over 40 countries, on six continents. They facilitate the 2000+ strong MyData Global community working on the ethical use of personal data.
MyData is both an alternative vision and guiding technical principles
---
REPORT ON THE EVENT
The session on "Data Intermediaries in the EU" has been a very informative and inspiring experience, thanks to the presenters – with their backgrounds in the legal, economic, psychological, technical and web-design fields – who inspired an interdisciplinary discussion.
The Weizenbaum-Institute in Berlin published a brief post on Privacy Icons Forum blog about the session.

You find the blogpost under the following page